The Most Effective, Efficient, and Clinically Proven Devices for Treating Nail Fungus and Acne
Medical-Grade Technology
FDA, ISO, CE, IEC cleared. Proven by exceptional clinical research (level 1 studies).
Quick & Convenient
Non-invasive 10 – 30 minute treatments with outstanding results.
Fast ROI
Make your investment back in months. We'll help you at every stage.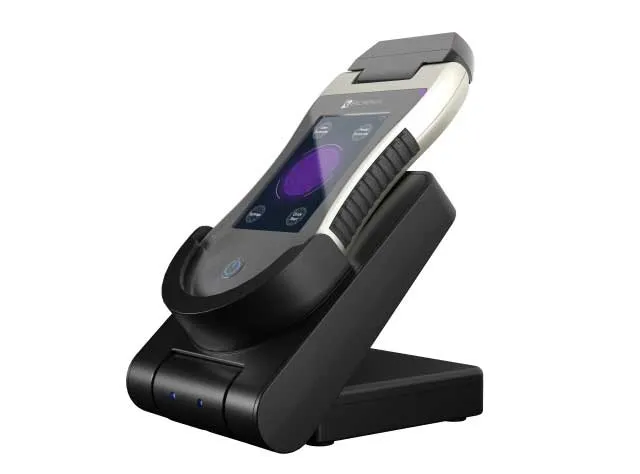 Erchonia's non-thermal lasers are the only Low-Level Laser Therapy (LLLT) devices to be FDA Market Cleared for treating nail fungus (onychomycosis) and acne. The efficacy of our machines has been proven by multiple (level 1) double blind, randomised, placebo-controlled, and multi-site clinical studies – the most credible research in the market today. The treatments are short, effective, and easy to administer. There is no associated pain, reported side effects, or downtime, and the technology is safe with no health risks. We provide the training, ongoing support, and marketing, so you can focus on what matters most – your clients.
---
Lunula®
Details …

Erchonia's Lunula® Laser is the only LLLT device to be FDA Market Cleared for treating fungal nail infections.

Lunula® is easy to set up and use, and is the only automated system on the market today, allowing you to save on staff costs and increase profits.

The device targets onychomycosis through the use of two true laser beams (red 635nm and violet 405nm – monochromatic, collimated, and coherent), providing outstanding results in short 12 minute treatments.

The two wavelengths trigger a photochemical reaction, producing Reactive Oxygen Species which is converted to Hydrogen Peroxide – a natural antiseptic that kills onychomycosis. In addition, the red 635nm wavelength induces the production of Adenosine Triphosphate (ATP) which is converted to Nitric Oxide – aiding the natural immune response in fighting the infection.
EVRL®
Details …

The EVRL® Laser is a cordless handheld device with a simple graphic interface and preset / customisable protocols. It is the only LLLT device to be FDA Market Cleared for treating acne and bacterial, fungal, or viral infections, and is efficacious for pain management.

EVRL® utilises true laser technology, optimising photonic energy delivery through the use of monochromatic, collimated, and coherent beams of light. The device emits two true laser beams – a violet laser provides an antimicrobial effect through its 405nm line coherent beam (5mW output), and a red laser promotes healing through its 635nm line coherent beam (7.5mW output).

Used on its own or as an adjunct, EVRL® is effective for a wide variety of conditions, allowing you to expand your treatment range and grow your clinic.
Why Choose Erchonia®?
World Leaders in Professional Laser Therapy Technology
With over 25 years of experience, 16,000+ devices in the market, and 21 FDA-clearances, Erchonia® Corporation are world leaders in medical-grade Laser Therapy technology for professional use. Erchonia's range of non-thermal, Low-Level Laser Therapy (LLLT) devices are used in many areas, including pain relief, fat removal, cellulite reduction, fungal nail treatment, and more. Based in the UK, Erchonia Lasers Ltd are a subsidiary organisation. We provide personal support to companies in Europe, Middle East, and Africa… Read More
91% Customer Satisfaction Rating
Our clients say it all: best products, service, training, and support.
Over 25 Years of Experience
Founded in 1996 – first Low-Level Laser in the world to gain FDA market clearance.
21 / 24 FDA-Clearances for Low-Level Lasers
Most credible research in the market – double blind, multi-site, randomised, placebo-controlled.
16,000+ Devices in the Market
Leaders in the field with over $5 million invested in R&D at any one time.
Recent Testimonials
"The return on investment with Lunula has far exceeded expectations. Each Lunula Laser has paid for itself within a matter of months. Lunula has been such an asset that we've had to purchase several more devices to keep up with demand. As a practitioner, it is really straightforward to use. It is hands free, so has freed up both time and concentration which we can devote to our patients."
Martine Silverman (MRCPoD, Director and Podiatrist at The London Nail Laser Clinic)
"Although I had done my research, I never expected there to be so much demand. The Lunula was giving me these incredible results. Within one year, from nothing, a third of all my revenue is down to Lunula. Lunula has already paid for itself. I was so impressed that I bought my second Lunula in May and opened a new clinic. I am buying a third Lunula and have just opened a third clinic."
Katrina Waller (MRCPod, Director and Podiatrist at Compleet Feet)
"Lunula was a great business decision. It has enhanced the clinic's profile and reputation. We look state of the art – no one else locally offers what we do, and it works. My first Lunula Laser paid for itself in three months and we have now invested in our second machine. It has been a very good investment, both clinically and financially, and one that will continue to enhance the clinic's profile and reputation."
Sangeeta Dhall (MRCPod, Director and Podiatrist at Walkwel Clinic)